December 2017
Announced on 12th December the Pantone Colour 2018 is Purple or rather Ultraviolet.
It "communicates originality, ingenuity and visionary thinking," Leatrice Eiseman, executive director of the Pantone Color Institute, said by way of explanation.
"It is found in the cosmos , the wellness movement (amethyst crystals) and was a favorite colour of the architect Frank Lloyd Wright" who, Ms. Eiseman said, used to wear a purple cape when he was trying to be creative.
5 Ways to wear Pantone Colour 2018 Ultraviolet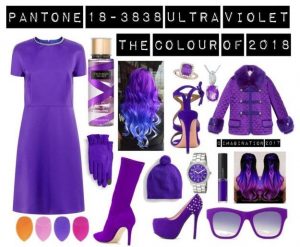 A quick search on the internet will give you plenty of inspiration and it's not hard to find ultraviolet clothing or accessories.
This is a bold colour and you'll certainly be the centre of attention in any room wearing ultraviolet. If you wear it head to toe, the pantone colour 2018 can be a little overwhelming. But it does work well as a monochrome outfit, like a dress.
It can be teamed very successfully with other colours such as apricots and oranges and violet/pinks.
You can also add a splash of colour with accessories such as shoes and sunglasses or with a handbag
Add a hint of ultraviolet in your jewllery
Or you could try some ultraviolet nail varnish…just to see how you like the colour against your skintone. Butter London has a lovely shade Inspired by ULTRA VIOLET, called Iced Lavender this is a fabulous metallic lavender nail polish.
Blur Style have some great ideas of easy to wear combinations which you might like to check out for more inspiration.
It's a very Royal colour too. If you search the internet you'll see pictures of Queen Elizabeth II, Princess Diana and the Duchess of Cambridge all wearing this colour as monochrome outfits. It does suit many complexions – as you can see on Tina Fey (in Atelier Versace at the 2016 Academy Awards), Viola Davis (in Giorgio Armani at the 2017 Time 100 Gala) and Sandra Bullock (in Bottega Veneta at the 2010 Golden Globe Awards).
Why not give ultraviolet a try?
Blog posts you may also like:
Greenery the Pantone Colour of 2017
Rose quartz and Serenity The Pantone Colours of 2016
Marsala the Pantone Colour of 2015
Radiant Orchid the Pantone Colour of 2014
Emerald Green the Pantone Colour of 2013