May 2020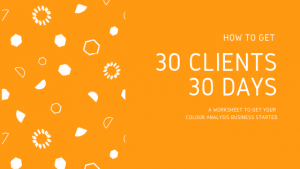 Does that sound impossible?
When you are thinking of starting a new business, probably the first thing you'll think about after "Will I be any good at it?" will be "How will I get clients? Where will my clients come from?" This is the same for any business, but especially relevant to get your Colour Analysis business of to a good start.
Before you even think of advertising or marketing activities there are some simple things you can do which will show you if you can get your colour business off the ground quickly.
It's easier than it sounds. Simply download our worksheet "How to Get 30 Clients in 30 Days" and get started.
It will take you through a simple process which will provide a document for ongoing business building. With our free handout you'll a system to get you started…and you'll also get 3 essential tips for keeping the momentum going.
If you'd like to get started, just enter your email details and we'll send you a link to download the pdf worksheet "How to Get 30 Clients in 30 days Worksheet" here. Set aside 30 minutes every day until you have completed your goal. Consistency is key – a little activity on a regular basis really pays dividends.
Let me know how you get on and if you'd like more information about training as a colour analysis consultant and our Diploma in Advanced Colour Analysis email me here.
If you are just starting to research Colour Analysis, becoming a Consultant and the training courses that are available, you may also find the following blog posts informative:
How to pay for your Diploma Colour Analysis training course