February 2020
The International Colour Authority Pantone, has decided that Classic Blue is THE colour for 2020.
PANTONE 19-4052 Classic Blue
According to the Pantone Institute this colour "instils calm, confidence, and connection. This is an enduring blue hue which highlights our desire for a dependable and stable foundation on which to build as we cross the threshold into a new era".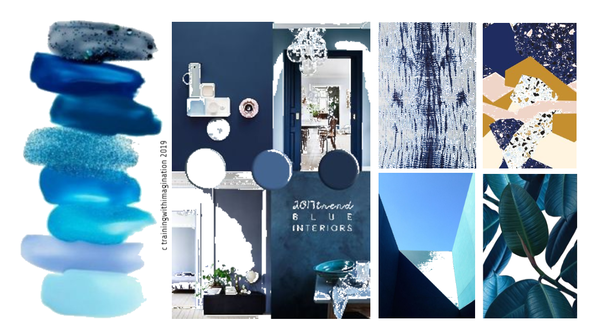 For those living on the coast you are surrounded by blue with the colour of the sea and the sky. It is thought to be the worlds favourite colour. In Japan , blue means fidelity and is a colour of good luck. While blue in Europe is often perceived as the colour of communication. This is a good reason for Her Majesty the Queen to choose this colour for 29% of her outfits. (According to Vogue magazine when they charted the colour of her outfits in the Jubilee Year.)
According to Karen Haller in her book The Little Book of Colour (Book Review here) "Blue affects our intellect. Its primary action is to trigger mental responses".
Blue can make us wary when there is too much of it. We often consider blue food as unsafe. It's also the colour most likely to suppress the appetite.
How to wear blue …
For those with a warm skin tone a basic navy blue works as a neutral for the spring skin tone. Near the face the light teals and turquoise will work better. Whereas the autumn skin tone will look best in a midnight blue for neutrals and an air-force blue nearer the face. Teal may work too.
For the cooler complexions – starting with winter, both basic blue and midnight blue work as neutrals. Azure and royal blue will work best nearer the face. The delicate colours that suit the summer complexion are full of blues which are equally their better neutrals: sapphire and Capri blues as well grey-blue and light blue.
If you have found this article interesting and would like to know which blue suits you best, head over to our listing of Colourflair Consultants page. Only a few of our consultants are listed here but there may be one near you. You can always phone for more information or book a Colour Analysis session.
If you would like to know more and learn about colour and start your own business or for personal development – you can find more out about our Diploma in Advanced Colour Analysis here.