January 2015
Each year the colo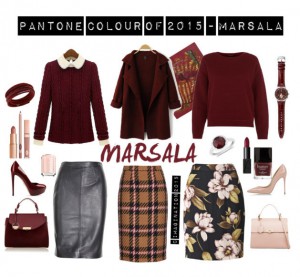 ur authority PANTONE decides on a colour palette for the year and chooses one to be THE colour.
For 2015 it is Marsala
"Much like the fortified wine that gives Marsala its name, this tasteful hue embodies the satisfying richness of a fulfilling meal while its grounding red-brown roots emanate a sophisticated, natural earthiness."
Whilst at first glance you may be forgiven for thinking this is a tricky colour to wear pantone  says:
"Whether in a flat or textured material, or with a matte or gloss finish, this highly varietal shade combines dramatically with neutrals, including warmer taupes and grays. Because of its burnished undertones, sultry Marsala is highly compatible with amber, umber and golden yellows, greens in both turquoise and teal, and blues in the more vibrant range."
A quick visit to Pinterest searching on Marsala will show you just how many colours it can be teamed with. It looks set to be a favourite for weddings – bridesmaid dresses and flowers, and of course this is a colour that works well in home decor.
Not sure about whether it suits you? Why not find a local Colourflair Consultant who will be able to helo you with your colour choices.
Author: Helen Kendall-Tobias