March 2017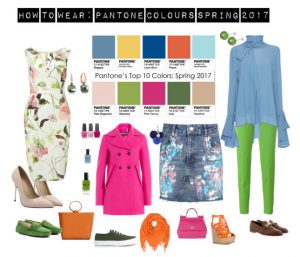 At first sight, some of your clients may find Greenery, THE colour of the year from Pantone a little overwhelming.
It can be ean eye popping shade of green but fortunately, it can be found in differing shades and tones so you'll be able to helo them find one that really flatters their skin tone.
If your customers are tired of the colour of their winter wardrobe, Greenery will offer a fresh new alternative, now that spring is really around the corner.
But the other colours?
Having had time to think about their colour choices I can see that it's not going to be difficult to add any of them to an existing wardrobe. At £34 the denim skirt from Top Shop has 4 of the colours in one go – making it a very versatile purchase when paired with T-shirts and tops in matching colours. It won't show grubby marks either for those clients with babies and toddlers. (Although watch where those colours hit on the thigh as it might have a "widening" effect.)
Macs are all the rage for the spring and with a quick look on line you'll easily find one to brighten up a rainy day. Shoes and accessories are a good place to start with a colour you've not worn before and if you're really not sure – why not treat yourself to a new nail varnish. Help your clients find new colours for an updated spring wardrobe by offereing a colour workshop…