January 2013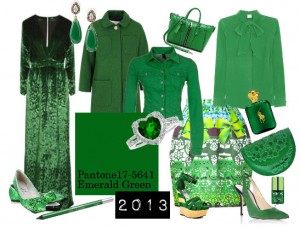 Each year, Pantone, the leading provider of colour systems and technology for accurate colour communication, declares a particular colour the "Colour of the Year".
Twice a year, the company hosts a secret meeting of representatives from various nations' colour standards groups in a European capital. After two days of presentations and debate, they choose a colour for the following year; for example, the colour for summer 2013 was chosen in London in the spring of 2012.The colour suposedly connects with the zeitgeist; for example the press release declaring Honeysuckle the colour of 2011 said "In times of stress, we need something to lift our spirits. Honeysuckle is a captivating, stimulating colour that gets the adrenaline going – perfect to ward off the blues."
On December 6th, Pantone announced that Pantone Reference 17-5641 Emerald Green would be the colour for 2013, taking over from 17-1463 Tangerine Tango, which was the colour of 2012.
Leatrice Eiseman, executive director of the Pantone Colour Institute, was reported as saying: 'Green is the most abundant hue in nature – the human eye sees more green than any other colour in the spectrum.
'As it has throughout history, multifaceted Emerald continues to sparkle and fascinate. Symbolically, Emerald brings a sense of clarity, renewal and rejuvenation, which is so important in today's complex world. This powerful and universally appealing tone translates easily to both fashion and home interiors.'

Since ancient times, this luminous, magnificent hue has been the colour of beauty and new life in many cultures and religions. For centuries, many countries have chosen green to represent healing and unity.'

'Most often associated with brilliant, precious gemstones, the perception of Emerald is sophisticated and luxurious.'
The designers have been in on the secret for some time. Issa, one of the once favoured designers of the Duchess of Cambridge included an emerald dress in their AW2012 collection.
But of course the Duchess of Cambridge has already worn this colour – on a number of occasions – most notably the Jenny Packham dress for an Olympic event and more recently the Mulberry dress at the Natural History Museum.
Several of the luxury women's wear labels including Chanel, Roberto Cavalli and Jonathan Sanders incorporated the colour into their current autumn/winter 2012 collections, while trendsetters Kenzo, Acne and Marios Schwab, Tracy Reese, Nanette Lepore, Barbara Tfank, NAHM and Marimekko, continued the trend in their spring 2013 collections.
Variations of the colour will become available on the High Street in the SS2013 collections, albeit in differing shades, tones and hues. Looking at my colour swatches I can see that this is a colour which, when chosen carefully, can suit every season and skin tone. If you're not keen on green – then you need not wear it head to toe, add it to your outfit as accessories or you could always try a green nail polish.