July 2020
The Association Newsletter is just one of the ways that we keep in touch with students and consultants.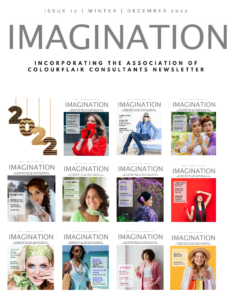 The digital newsletter is published monthly and arrives in Consultants inboxes at the start of each month. Not only does it give important updates on new products in our Trade Price List – but most importantly it is also a way for you to understand more about Colour Analysis, hear industry news, as well as learning new skills which will be useful in running a successful business.
In recent newsletters, we've featured Book Reviews and Product Reviews. We've run quizzes and word searches to complete with a coffee. We've given more training on elements of our course – as well as essential information when setting up your business, with tips for voice mail messages and email signatures.
In 2021, we've been running an exciting series each month, which will add to our Consultants colour knowledge and skills.
When you study with Colourflair and Train with Imagination – you won't be left on your own once you've completed your training…
Our courses were recently updated to comply with information on how to work in a post Covid-19 world. There is a playbook, studio posters and a guidelines policy and these were circulated to our members as part of their membership.
It's not the only way we keep in touch as we have a Facebook group which also has free downloads and information which we know our members find useful.
If you'd like to find out a bit more and get hold of a copy of our newsletter just drop me an email and I'll send a copy of the pdf version to your inbox…no signups … just find out a bit more about us…email here
If you'd like to know about other style courses you can find information on our sister website www.trainingwithimagination.co.uk
Post Updated June 2023