December 2021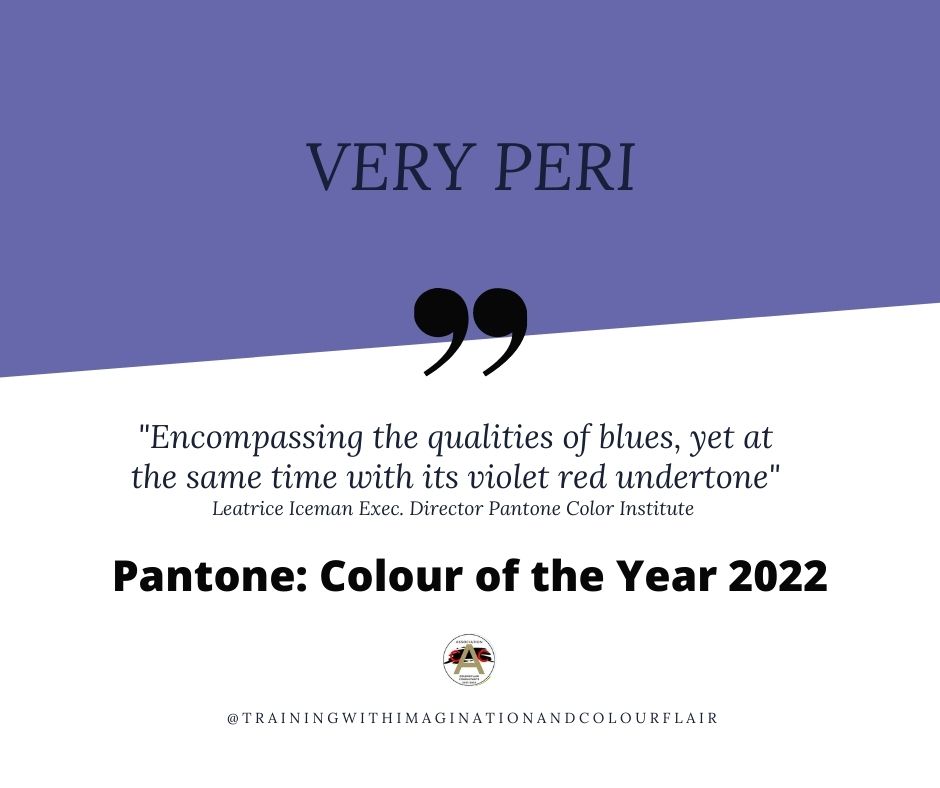 VERY PERI 17-3989
The PANTONE Insitute has chosen a new colour "Very Peri" as its colour of the year 2022. Lying between blue and purple this "burple" colour has the quality of the colour blue and at the same time a violet red undertone.
This is the first time that the Institute has created a new shade for its colour of the year.
It's meant to symbolise "personal inventiveness and creativity" through its "courageous presence".
Pantone announced its colour for 2022 in December 2021. And to be honest I've been having a little chuckle ever since.
For the first time ever – Pantone chose a new colour as the Colour of the Year. So absolutely no one (apart from Pantone) has any items in this precise shade. So, I've been chuckling as fashion and makeup artists try to come up with clothes and cosmetics in Very Peri. The nearest widely available colour is Periwinkle, although this lacks the violet red undertone.
But for most of the items chosen by Vogue journalist Kiana Murden in her article "Shop the Shade in Beauty" (9th December) the items were either too blue or too red.
Hermes "Selles de Steppes Wash" Scarf £355, on screen, appears to be Very Peri although the colour way is described as Indigo by Hermes. Tod's spring 2022 collection features a similar colour too.
And our very own Colour Consultant and Goldsmith Barbara Laws has a lovely frosted amethyst ring call Lilac Fiji (£25) for sale on her website gemandtonic.uk
This is a colour that will suit many skin tones. It works extremely well as a colour which goes with neutrals such as graphite and basic camel and basic grey brown although there are a number of fabulous colour palettes that work with Very Peri. Pantone has given four options here: I particularly like "Amusements" as a clour palette for the spring.
On first sight, "Wellspring" may be a colour palette for cooler months. As The Institute says "A holistic and harmonious blend of nature infused shades, Wellspring highlights the compatibility of the greens with good-natured PANTONE 17-3938 Very Peri, and the health-giving properties of these deliciously subtle and nourishing hues." As 2021 draws to a close, we will all most certainly benefit from "health-giving properties and nourishing hues"
December 2021
HKT Training with Imagination