October 2021
The runway of London Fashion Week AW21-22 was a riot of colour – with over 14 different colour trends identified. So, if you are looking for some colour inspiration for your autumn wardrobe, here are four colours, that we recommend for the coming season.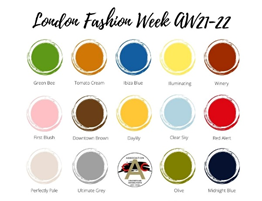 Red is an energetic colour, and can also really affect how you feel. So, if you start the day feeling low, without motivation to do anything, wear bright red. You will feel more focused and have lots of positive energy.
Pink is a colour which will make us feel pretty and feminine. It's often associated with self-love. Despite its gentle appearance, wearing pink clothes or accessories can have a powerful impact on our emotional health and lift our mood. It's well known that people who are surrounded by lots of pink shades feel happier and have fewer aggressive tendencies.
Yellow reminds us of the color of sunshine and happy days spent outside. Also known as the colour of joy, yellow aids our clarity of thought and encourages optimism.
The colour green represents hope, success and good health. It is of course the colour associated with nature. Choosing to wear some green, especially the shade "Green Bee" will help to reduce negative thoughts and give you a sense of empowerment.