August 2020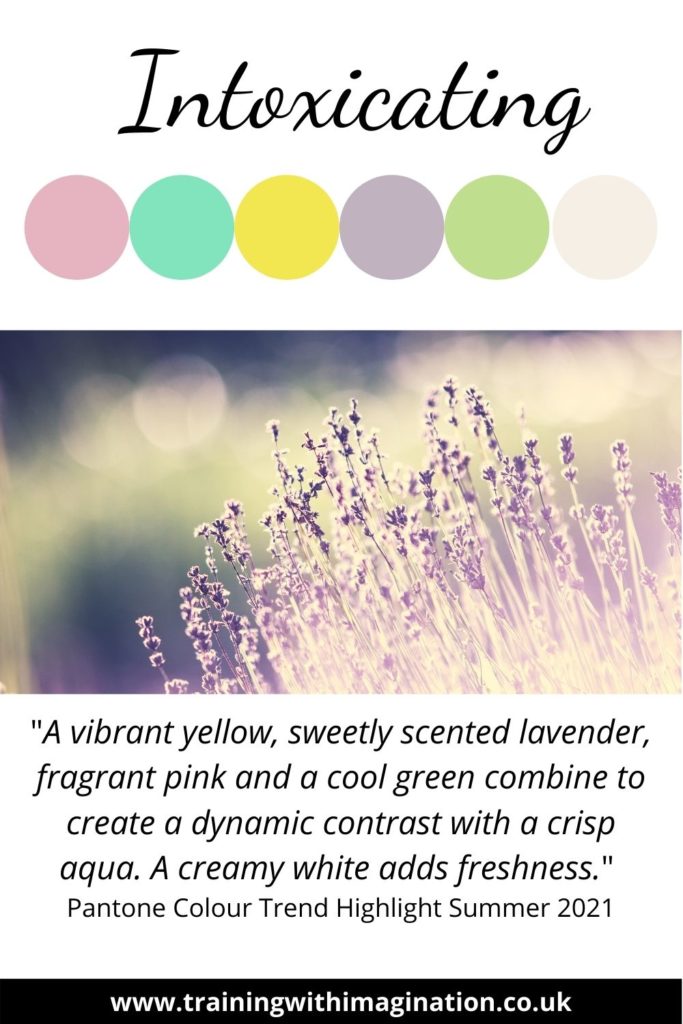 Every year I look forward to new colour palettes chosen by Pantone and the spring/summer 2021 colour palettes from the Pantone Colour Institute will be worth the wait.
After such a miserable 2020 we can only hope that spring/summer 2021 will be a better year for everyone and the colours that Pantone have chosen seem to have captured a hopeful mood.
But how will these work with seasonal colour analysis?
The "Intoxicating" colour palette will flatter most summer skin tones. Fairy Wing Pink, Dream of Cotton Lavender and the Tomatillo cool green will look particularly good. Lemon Fizz Yellow may be a little strong next to the face – but will be a useful accent colour to give some zing to an otherwise pastel collection.
Carnival Green is a lovely aqua shade which will crossover to other seasons too – especially winter and spring.
The "Summer Bouquet" features Blush Beauty which our spring complexions will be drawn towards…and this palette has Winery and Pepper Stem which our autumns skins will love.
Power Surge is an altogether more robust palette – with more vibrant colours such as Nobility and Iced Mango. There is plenty of choice for each season in this palette.
I'm looking forward to the spring/summer 2021 colour palettes. I wonder which of these colours may become "THE" Colour of the Year?
If you are reading this and have a colour business, then you could use these colour palettes as an idea for a follow up session – or a workshop. How to wear spring/summer2021 colour would be a great title for a general workshop, or How to wear Pepper Stem for a one-to-one session with an existing customer.
A key factor in success in all Colour Analysis businesses is to get out of the one-off mindset. Getting your clients returning for further services will create ongoing revenue. Creating new and exciting ways of keeping in touch with your customers will keep things fresh for your clients and also for you, so do take a few moments to think how you could use these colours in your business.
If you've enjoyed this short overview please share the photographs on pinterest.
If you'd like to read more about seasonal colour analysis – try our article here Seasonal Colour Analysis 101
If you'd like to know more about training in Colour Analysis you can aread about our Diploma in Advanced Colour Analysis here.
If you'd love to train but not sure you can afford the training course – the's an article ere: How to pay for your colour analysis training. With a Free download to help your planning
If you are already qualified in Colour Analysis – you may like to further your skills with our other course available on our sister website Training with Imagination.