August 2015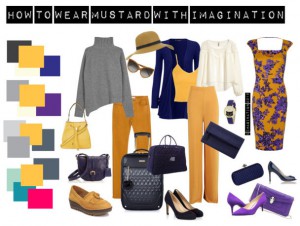 Mustard is a dark yellow color that resembles culinary mustard – it also is similar in colour to Flax. It's a relative newcomer as colours go and was first recorded as a colour name in English in 1886.
It's been out of favour as a fashion colour for a while but seems to be growing in popularity again and there are quite a few mustard items hitting the High Street at the moment – no doubt a reflection of the 70's retro trends, which was when the colour was last popular.
Your autumn skin tone clients will love this shade and find it a welcome change from the orange and sage colours that they can wear so well. Here are a few ideas for adding it to their wardrobe to "spice up their lives".
Author: Helen Kendall-Tobias