About Training with Imagination
You've come to the right place if you're looking for a small dedicated training company that can train you to be successful in Colour Analysis, right in the comfort of your own home.
Whether you are looking to start your own business, add a new service to an existing business or for your own personal development, we have a colour course that will be just right for you.
Our mission:
"To become the foremost non-franchise Colour~Styling Training Company in the UK, bringing distance learning and online courses to all, at a realistic price."
Our training brochure will give you more information. You can request a copy here.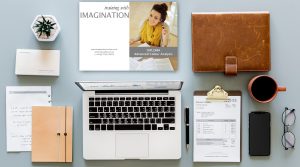 Who runs Training with Imagination?
Training with Imagination is a new company run by me, Helen Kendall-Tobias. I've run my own successful personal colour and style business, Imagination  – Image and Health Consultancy since 2005. Right at the start, my long term business plan was to concentrate on writing and training new students. Now that I have almost 14 years real life experience working with customers, I'm ready to move to the next stage in my business.
" I have been working with Colourflair (the company I chose to do my training) for several years now and am very blessed that Pat Scott Vincent founder of the Colourflair method of Colour Analysis has passed her knowledge and training methods on to me.
More about Colourflair…
The Colourflair method was first formulated in the 1980's and since then the Diploma in Advanced Colour Analysis has become one of the most reliable in the industry and unique in its holistic approach. In 2019 interest in Colour, Fashion, Style and looking your best is as important today as it was 36 years ago, when Colourflair and the Colourflair method was first launched.
The course and materials have been developed and improved over the years and offer a real foundation if you would lime to become a Colour Consultant, stylist or personal shopper running your own successful business.
While Pat is no longer training, her legacy and method of Colour Analysis will continue in Training with Imagination and Colourflair – who will continue to train her methods in the re-launched Diploma in Advanced Colour Analysis with Helen as principal tutor.
New courses and an Advanced Certificate in Colour will be introduced in 2019 – bridging the gap between colour and personal style. By the end of the year a completely revised and updated course in Female Style will be launched to students.
Training with Imagination will offer E-books, podcasts and webinars available to all image consultants, not just those trained by Colourflair, so please bookmark this site and make sure you come back regularly to see our new publications.
The Trade Price list supports Image Consultants with Colour Fans with around 100 colours. There are also a wide range of Cosmetics, Skincare, Salon Sundries and Colour Corrected Lighting – you can download a copy of the latest Trade Price List here.
Training with Imagination brings together the expertise of practising and successful Image Consultants. They will of course teach you the knowledge you will need to practice in the field – but will also focus on setting up your consultancy, Business Planning, Sales and Marketing…and with our mentoring programme – ensure that your business gets off to a great start.
If you'd like to know more – please download the information brochure by entering your details here. If you're not sure this is the career for you, why not download our ebook (or listen to our podcast)  Becoming an Image Consultant – Do You Have What it Takes?
We look forward to hearing from you and joining you in your Colour~Style journey…If you'd like to talk to me, Helen, please call me on 07725 576472. It's important to us that you find the right training provider so we'll tell you straight if we don't think we're right for you.